When a bride and/or groom are in the wedding industry, you can always be sure that their own wedding will be next level amazing, and Georgia + Theo did not disappoint.
Needless to say there's never been a more challenging time for weddings than in the past two years. (Thank goodness we're now past that!) It's been a heartbreaking time for many, but that's why we wanted to share this beautiful, good news story. Like many, Georgia + Theo's plans were thrown up in the air, and just 5 days before their dream day. So what did they do?
GEORGIA + THEO HAD TWO WEDDINGS >
2021 was definitely a roller coaster but honestly It was so special, even better than expected! The lockdowns and continuous replanning really changed our perspective on what a wedding is and what is most important! We decided to still get married on our original date in July and it was the most special and intimate experience with our closest family and friends. We were able to hold our 'big' wedding celebration 3 months later which was such a fun-filled day and all went ahead perfectly! We have soooo many happy memories from both days, who wouldn't want to marry their best friend again?
THE WEDDING STYLE >
Eclectic, colourful with Rustic influence.
WHY THE ACRE >
We wanted a venue that would work with our ideas and allow a sense of creativity and freedom in how we envisioned the space to be! The open-plan barn allowed us to arrange the furniture to suit a cocktail style reception with all our statement decor such as a neon sign and pink chesterfield! We also loved the secluded rainforest feel with the open lawn and palm trees for our ceremony to take place.
THE PLANNING PROCESS >
Being a designer in my career, I had a clear vision of how I wanted things to look straight away and quickly made plans for the overall aesthetics and details, planning the wedding for our first date was all done in under 6 months… however, 5 days before our wedding a snap lockdown was announced, instantly it was quite heart breaking, but thanks to the support of our families and friends we pushed on to get married! The staff at The Acre worked with us all week to make our small ceremony so special and for that we are forever grateful! We re-planned our wedding celebration for 3 weeks later however, found ourselves in a second lockdown. We then decided to wait 3 months to throw a big party and that we did! We were so thankful for all our vendors who worked with us to make the new date work, everyone went above and beyond which was so special.
FAVOURITE PART ABOUT THE ACRE >
We love how everything is at the same place so you can maximise the whole time with your bridal party, family and friends without worrying about transport between ceremony and reception. The location is also perfect for guests to find accommodation nearby along the coast.
FAVOURITE THING ON THE MENU >
We chose the substantial canapé option for our cocktail reception. Our top 2 dishes were the squid and the pork belly but everything was amazing!
A SPECIAL MOMENT >
Theo – Seeing Georgia walk down the Aisle (again) even though it was the second time walking down the aisle, seeing her again was just as special as the first time…
Georgia – At the girls prep location, I did a first look with both my Dad and my bridesmaids. I decided to keep my dress a surprise and not wear it at our first wedding, I just love the expressions on everyone's faces, it was very special! But of course seeing Theo and marrying him again in front of all our guests was such an incredible time.
TOP TIP >
Make the most of the situation you have and try to focus on the most important thing – getting to marry your best friend!
WEDDINGS SUPPLIERS >
Photographer – The Lane Creators (Danelle)
Videographer –The Lane Creators (Ryan)
Makeup – Nicole Peterson
Hair – The Dutchess of Hair
Theming – We did DIY styling. (Throughout the year I collected decor and furniture within the colour scheme and with my Dads help we built the colourful arbour structure and created all the signage.)
Bridesmaid Dress – David Jones, Shona Joy, Petal and Pup. (I wanted the girls to all pick their own dresses within the colour palette, so they could wear a dress they were comfortable in and could wear again! I'm so happy with how it all turned out, they looked gorgeous!)
Robes – Gorman (Bridesmaid) + Homebodii (Bride)
Suits – YD
Groom Watch – The Horse
Dress –Ashleigh Jane Bridal (Custom Designed 2-piece bridal top and skirt.)
Venue Planner / Coordinator – Amy and Emily from the Acre were amazing! They made sure everything ran so smoothly.
Florist – Coco Lane (We used dried flowers for all our styling and bouquets, which was the biggest blessing as we could store them from the first date and keep them in perfect condition for the postponed date. Not to mention they still look beautiful in our home!)
Cake – Family Friend (Terri)
Sign Writing – Bronte Louise Lettering
Bridesmaid Earrings – Concrete Jellyfish
Bride Earrings – Ayla and Oak
Sunglasses – Oscar Wylee
Stationery – Paper Lust
Celebrant – Family Friend / Pastor
Transport – The Vintage Wagen
Styling accessories and Backdrop – Noughts and Crosses Events
Neon – Sketch and Etch
WEDDING 1.0 >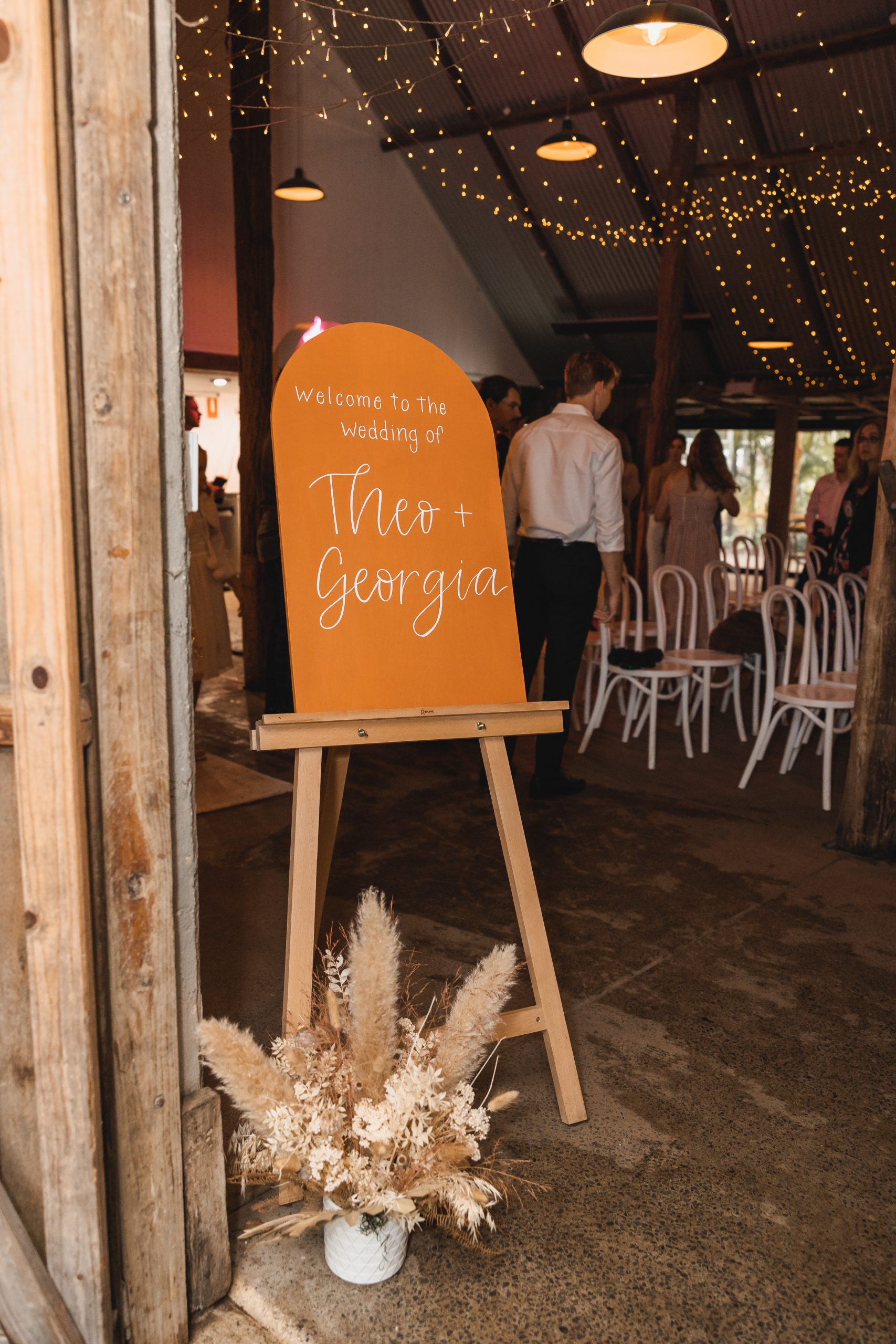 WEDDING 2.0 >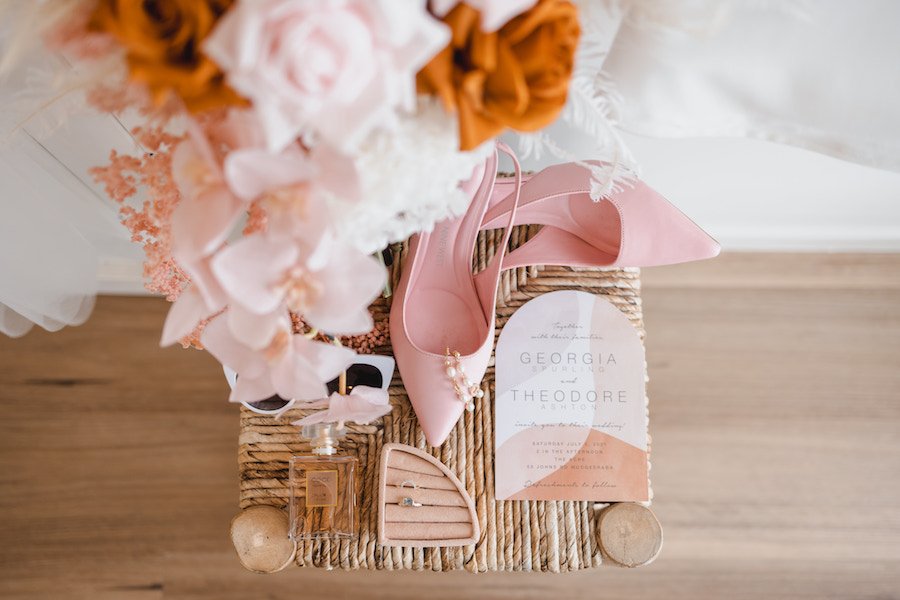 Take a look at some more real wedding inspiration at The Acre, here.
The incredible suppliers who helped Georgia + Theo deliver their dream day…
Photographer – The Lane Creators (Danelle)
Videographer – The Lane Creators (Ryan)
Makeup – Nicole Peterson
Hair – The Dutchess of Hair
Theming – DIY
Bridesmaid Dress – David Jones, Shona Joy, Petal and Pup.
Robes – Gorman (Bridesmaid) + Homebodii (Bride)
Suits – YD
Groom Watch – The Horse
Dress – Ashleigh Jane Bridal
Florist – Coco Lane
Cake – Family Friend (Terri)
Sign Writing – Bronte Louise Lettering
Bridesmaid Earrings – Concrete Jellyfish
Bride Earrings – Ayla and Oak
Sunglasses – Oscar Wylee
Stationery – Paper Lust
Celebrant – Family Friend / Pastor
Transport – Vintage Wagen
Styling accessories and Backdrop – Noughts and Crosses Events
Neon – Sketch and Etch
GET IN TOUCH WITH US
Real Weddings at The Acre