Chiara + Tim said "I do" perfectly framed by our tall palm trees on a sunny Spring day. There's so much to love about this romantic wedding, from the open air ceremony, to an epic bridal party and their beautifully styled reception in the barn. Read on to hear from our bride, Chiara all about their dream day.
THE WEDDING STYLE >
Classic, modern, romantic. We tried to go for something that we could look back on in 10 years and not cringe!
WHY THE ACRE >
We had originally booked The Acre's sister venue Ancora back in 2019 before The Acre had even opened. After postponing once in 2020, we were not keen to postpone again in 2021 but the border restrictions meant that we couldn't get down to Ancora. The team offered for us to move the wedding to The Acre and although it's a very different vibe to Ancora, we fell in love with the secluded, nature-filled ceremony spot on the lawn and the romantic, moody, fairy-lit barn.
THE BEST PART >
We have a few! The best part was having our dog with us for the entire day and night which was so special and important to us. We also loved that the ceremony and reception were all on the one property, as well as being spoiled for choice for photo locations. Finally, the staff at The Acre were absolutely incredible. The wedding planners, on-the-day coordinators, and every other staff member we interacted with along our journey were so helpful, supportive, and professional, and made us feel like our wedding was their top priority despite the fact that they have several weddings per week.
FAVOURITE THING ON THE MENU >
We loved the fact that there were three different cuisine options at The Acre, but with Chiara being Italian, we had to choose the Italian menu. Chiara's favourite food was the potatoes, and Tim's favourite was the lamb!
A SPECIAL MOMENT >
Hopping in a golf buggy to our photo location with just the two of us and our photographers and videographer. We had such a fun time getting our photos done and even got to take a few minutes away from everyone to debrief about the day and relax before the reception. Another highlight was definitely dancing the night away to all of our favourite songs!
THE SUPPLIERS >
Photographer + Videographer > Figtree Pictures
Dress > Jane Hill
Suits > MJ Bale
Bridesmaids > Lulus
Engagement Rings > AG Designer Jeweller
Wedding Rings > AG Designer Jeweller
Florist > Ivy & Bleu Events
Cake > Milk & Honey Cake Creative
Bride's Earrings > Amber Sceats
Bridesmaid's Earrings > JT Luxe
Stationery > Little Green Leaf
Celebrant > Anita Stanfield
Transport > Black Bow Chauffeur
Hair > Hair I Come
Makeup > Sarah Kelly Co
Furniture Hire > Hampton Event Hire
Additional Fairy Lights > Out of the Dark Event Lighting
Singers and DJ > Silk Band Brisbane and Reggie Hovell DJ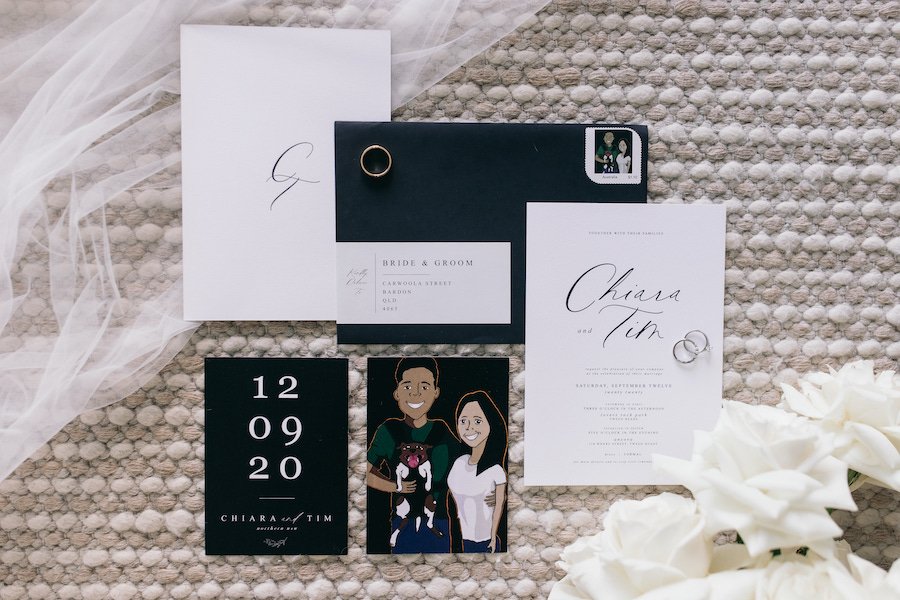 To see more beautiful wedding inspiration at The Acre, click here.
To request some information about hosting your day with us, click here.
The group of amazing suppliers who helped Chiara + Tim deliver their dream day.
Photographer + Videographer > Figtree Pictures
Dress > Jane Hill
Suits > MJ Bale
Bridesmaids > Lulus
Engagement Rings > AG Designer Jeweller
Wedding Rings > AG Designer Jeweller
Florist > Ivy & Bleu Events
Cake > Milk & Honey Cake Creative
Bride's Earrings > Amber Sceats
Bridesmaid's Earrings > JT Luxe
Stationery > Little Green Leaf
Celebrant > Anita Stanfield
Transport > Black Bow Chauffeur
Hair > Hair I Come
Makeup > Sarah Kelly Co
Furniture Hire > Hampton Event Hire
Additional Fairy Lights > Out of the Dark Event Lighting
Singers and DJ > Silk Band Brisbane and Reggie Hovell DJ
GET IN TOUCH WITH US
Real Weddings at The Acre