Wedding venue selection, a major decision in your wedding planning journey. The venue sets the tone for your entire wedding and is the decision with the highest investment attached to it. So it's important to get it right.
There are so many different Queensland wedding venues to choose from. Venues on farms, restaurants, hotels, venues that just host the reception, ceremony only locations and everything in between. We understand that it can be overwhelming trying to decide what is right for you and your lover.
So we thought we would break it down for you and share all the reasons why you should be booking The Acre at Boomerang Farm to host your dream day.
1. OUR WEDDING VENUE IS ALL INCLUSIVE
The Acre is an all inclusive wedding venue. What does this mean? It means, we have one package that includes everything you need at the venue. Ceremony and reception hire, ceremony chairs, arbour, reception space, dining tables and chairs, cutlery, plates, napkins, glasses etc. So we don't hook you in with a venue hire fee and then hit you with 20 other add-ons later. We commit upfront what the investment will be, so there's no surprises. It's a common misconception that DIY wedding venues are cheaper, but by the time you add all the bits and pieces necessary for your day, the costs for all inclusive is comparative, and a lot less stressful!
2. OUR TEAM ARE WEDDING PROS
Being part of a hospitality group that manages multiple wedding venues, our team are experienced. Collectively across our three venues (including Northern NSW venues, Osteria Weddings in Casuarina and waterfront Tweed Heads venue Ancora Weddings) our team have helped deliver over 500 weddings. There isn't much our team hasn't seen. Not too many issues they haven't encountered. And none who have more passion for weddings.
3. FROM CEREMONY TO PARTY
From the moment you arrive for your ceremony until you're peeling yourself away from the dancefloor, you don't need to leave The Acre. We have everything you need onsite. Two different ceremony locations, so many photo locations we can't keep count and a 100 year old authentic (recently revamped) barn for the party. We have you sorted. Less travel time, also means you have more time to spend with your loved ones.
4. RAINY DAY BACKUP OPTION
Weddings can be planned down to the minute with every detail considered. But planning the weather, is unfortunately not something in your control. This being the case, it's important that your wedding has a wet weather back up option just in case. Thankfully, The Acre has an indoor reception space and a sheltered ceremony space off the barn that allows you to easily relocate your ceremony last minute if the weather gods aren't in your favour.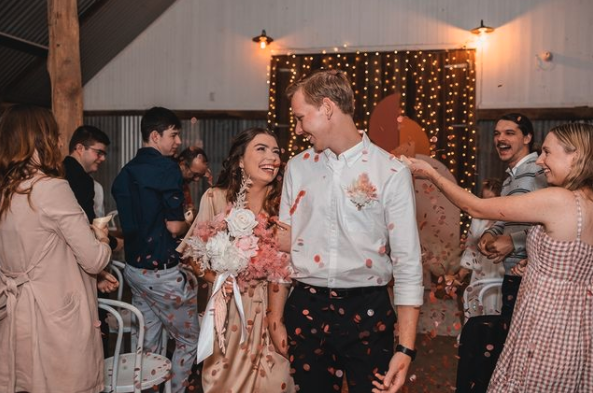 5. MULTIPLE CUISINES ON OFFER
We understand every couple is different and every couple has different tastes, so being able to offer multiple wedding menu options is something that's extremely important to us. And luckily we have the wealth of experience from the hospitality professionals who created renowned restaurants like Taverna (Greek inspired menu), Osteria (authentic Italian eatery) and Lolita's Mexican Cantina (modern Mexican restaurant) to ensure that our menus satisfy even the most fussy foodies. You can choose from the Mediterranean inspired, authentic Italian or fresh and punchy Mexican.
6. THE THINGS THAT MAKE OUR WEDDING VENUE SPECIAL
Well, where do we start? Large open lawns surrounded by lush hinterland nature. A secluded, private location that makes you feel like you're miles away from anyone, but you're actually just 20 minutes from Broadbeach. Blooming jacaranda trees and a huge bougainvillea. Space to make your wedding unique (hello chopper arrival!) A working fireplace in the barn. A golf buggy to get around to all our photo locations. And fairy light lit trees to light up the night.
If you're still not quite sure if The Acre is for you, there's no better way to get the true feeling of what it would be like to get married at The Acre than coming to see our venue in person. Contact us here to book a venue tour.
If you can't make it in person, we also do virtual tours and Facetime/Zoom appointments. And you can request our complete weddings kit here for more information.
GET IN TOUCH WITH US
Real Weddings at The Acre